Pretty fabric all our own! And YES you CAN do this yourself!
Pretty fabric all our own! And YES you CAN do this yourself!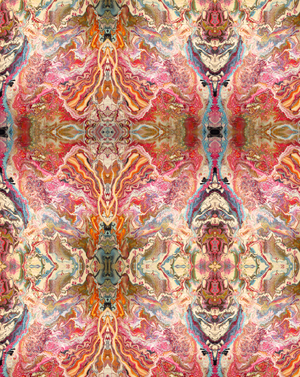 Trying to get a nice image onto a towel is a wild roller coaster ride......wanna go again?  Printing a painting as a mirrored repeat on fabric produces a continuous design that works for use on apparel, larger household items like drapes, curtains, duvets, shower curtains, summer weight blankets and still includes panels of the original painting itself for use as smaller items.
We will be proofing this concept, using one of our designs, early next year as we prepare for our Spring offerings for Mother's Day!  If you have requests for what we make as part of that,  NOW is the time to let us know. Maybe Haley will make a contest to help us choose the pilot design.....hmmm, what WILL the prize be this time?
Below is the image of the original painting (pour 234) which is the panel used to produce the larger design; the panel itself is sized to be used as a towel, napkin, tote, pillow or place mat. You can do this yourself, with your own art and designs,at a print-on-demand company that prints on fabric; we just happen to use Spoonflower.com.
Can you find the panel here in the larger design below?
Now we need a stripe, a floral and a plaid.......back to work!
Note: when uploading your designs,  AVOID stretching  them....it will produce a blurry image like you see in the screen shot of the posted large design.