pour on water 1 dragon lift off
pour on water 1 dragon lift off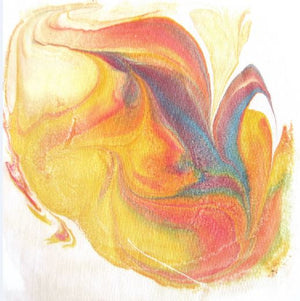 The question of whether or not the size will support a pour has been answered.  All pieces here are pour paintings done on carageenan size using marbling paint, lifted onto cotton canvas, about 8"x8".
pour on water 2
pour on water 3
pour on water 4 baby dragon's first fire
pour 6 baby dragon
Testing was done at the end of a run when the size was nearly spent. Paint was poured from mixed spoons, sometimes several all at once.  All have been heat set in microwave, with iron and in dryer, but not yet washed.