painting on water-ish
painting on water-ish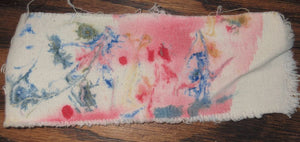 Here is a follow up on our painting-on-water testing series. Last time the post showed an in-process peek at pour painting on water thickened with cornstarch. The swatches were rinsed in water, air dried, then heat set in the microwave, followed by an iron on the highest setting, no steam. Finally the test swatches were machine washed in hot water and dried on hot setting.
The heat setting and washing process has been done on all our acrylic painted towels and holds up well over time in kitchen testing. The new step is achieving some detail, with a pour, using a small amount of paint.
Above is the result, right out of the dryer! Visible detail in a poured abstract image. And, of course, I see flowers. Chuckle.
This week, supplies are due to arrive for testing on making this process PRACTICAL for our towels. Ebru style painting on a bath thickened with carrageenan, a seaweed product, should allow several towels to be printed during a session. The test of theory has worked, now for the seaweed thickened water and a trial on a whole towel!