Handes Of a Woman Wins 5 star Review on Amazon Handmade
Handes Of a Woman Wins 5 star Review on Amazon Handmade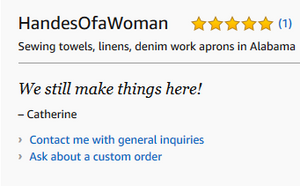 Many, many thanks to everyone who has contributed reviews on Handes of a Woman. All feedback is important to us; it helps customers choose and helps us to improve.
Here is a link to our latest review on our Amazon Handmade Shop:
https://www.amazon.com/gp/product/B07NTRH6B8?pf_rd_r=T1SWAT9X4BQ98589BAM6&pf_rd_p=ab873d20-a0ca-439b-ac45-cd78f07a84d8
Review is on behalf of our: Blue Ruffled French Country Towel https://www.handesofawoman.com/products/blue-ruffled-towel-1
At the end of last year, our best selling 5-star denim apron and its review on Amazon Handmade were deleted when I poked the wrong button installing an app. It went the way of lost socks, never to be seen again. So, as you can imagine, getting this new 5-star is a WOWSA thrill!
Thanks again, for all your feedback; keep it coming.