Working Together
Working Together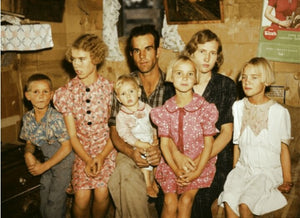 reposted from AlvinasLegacy @AlvinasLegacy on Gab
 "Truly reflective of the good hearted nature of the merchants working together for the good of the community. Not only did the flour mill approach the cotton mill to request new bags in vibrant colors once they realized folks were repurposing them, the cotton mills went to significant lengths to design dies that would completely wash out or remain. They printed on the bags how to wash the bag so that the pattern of flowers would remain, or how to wash the entire bag of all color so it was merely white. Those instructions and the Brand Name would easily wash off simply. That's actually a lot of effort, but they realized that diapers for instance were also being made and that Mother's would want pure white cotton that could be boiled and sanitized.

The merchant grocers though had another piece of the incredible story that's often overlooked. They knew that a Mom would want to sew three identical dresses potentially, if she had three daughters who preferred to wear the same dress. Easter Sunday especially. So that merchant would have a selection of the bags, then the Mom's would come in and place their orders with him. That way each woman had what they wanted and knew what the other mother's had selected. And he would sell the bags on credit, since they needed multiples before having the money to pay. Everyone was in the same boat. And as Bob pointed out, even the ones with money were in on it too because they were making dish towels, quilts, etc. from the bags .

You can't find that many merchants who could work together any more. That was a community effort because the mills were local. Our focus needs to be on revitalizing local farmers, mills and merchants to address both the large issues we face, as well as these smaller issues that added dimensions to life that made it an enjoyable and vibrant community that thrived."