The Wall Calendar
The Wall Calendar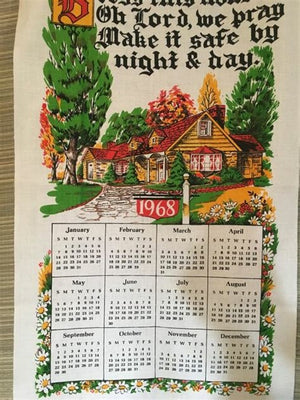 by AlvinasLegacy@AlvinasLegacy on Gab
Thank you sweet friends. I missed this whole exchange yesterday due to being in my garden tilling, in preparation for planting. Exhausting work, yet my mind stayed on the subject of mills and textiles all day, which made the time pass quickly and kept y'all in my mind. Almost like spending the day with each of you and that was nice!

I was thinking about your business because my thoughts took me back to when I first learned to make bread from scratch. There was an elderly woman who made cinnamon rolls that were so light and fluffy, so I asked if she'd consider teaching me. I showed up and she began telling me that the essential ingredients that a bread baker needed was a crock bowl, an old flour sack dish towel to cover the bowl as the bread rose and a "mat" that you floured to work the dough on. Hers had so much flour imbedded into the fibers that I could only see a faint pattern, yet couldn't discern what it actually was, so I asked where I should go to buy one. She looked at me as if my thread was totally off my bobbin.
"Child, it's a calendar." And even then it took me several seconds to connect in my head!
‍


Those old hanging wall calendars used to be in every kitchen I went in. Everyone had one. The thickness of the material and the fact that the weave did allow the flour to permeate made it the perfect mat. Heavy enough to stay in place as you worked dough, yet pliable enough to shake it out well and fold it up to back into your bowl at the end. Far superior to the fabrics that are available now for bakers because they are flimsy and more of a closed weave. All of which made me wish someone, somewhere, still offered them for sale. Because every year you got a new one to wash and put into use! So y'all keep your eyes open to see if you see anyone revive the lost art of hanging calendars since you're in different parts of the country!