Wilma Ingalls Show and Reception March 10, 2020
Wilma Ingalls Show and Reception March 10, 2020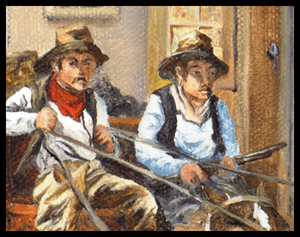 Handes of a Woman is proud to announce that one of our regions most outstanding fine artists is being recognized and honored by the Lower Alabama Arts Coalition with a show and reception at The Gallery in Andalusia, Alabama on March 10, 2020;  Wilma called us this week to pass on the exciting news!
   Wilma has been at gallery for several months and has been very well received here, as she has been at every showing for her entire career. She has murals in Brantley, Alabama and has sold works which reside in private collections broadly across the United States. She works in several genres including, but not limited to, still life, western, landscapes, seascapes, flora and fauna; she is a master of accuracy and detail. She sometimes spends hours on research to ensure that her paintings' details are literally correct and then executes them flawlessly. The featured image above is not a work in and of itself; it is a tiny detail of a larger western genre piece called 'Last Stage to Carson City.' The grid visible under the paint are the THREADS of her canvas! So do hang these works  where you and your family and friends can get a good close look. 
  Visit The Gallery now for a preview and add March 10, 2020 to your calendar  to meet and greet this amazing woman and see her newest offerings. Stay tuned after the holidays for updates on details over the intervening months.
Last Stage to Carson City by Wlima Ingalls; oil on 20" x 24" canvas; $1050