The process of customizing a work apron
The process of customizing a work apron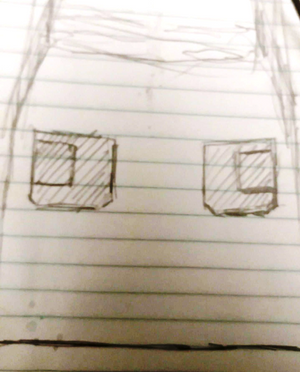 Custom designing a work apron is a process of back and forth between customer and seamstress. When an apron is used for work, function is everything. Pockets need to be where they are most useful and designed to keep everything handy and in its place.
Here is our original denim roughneck work apron; it is a combination of a 1940's men's apron pattern and my husbands heavy oilfield bib overalls:
Our customer had an idea about pocket design and drew a sketch.  She also wanted a different fabric.  
So we sent a video of our in-house options and made a prototype in some cotton twill.  Here is our customer's double pocket design being set up:  The smaller pocket is secured to the apron itself inside the larger pocket. Raw edges are fully finished with hems or encased within rows of topstitching.
Here are the custom pockets right before going to the machine. Pockets are reinforced at their top edges by securing to an inside band. 
Here is the custom pocket installed:
Prototype was shipped to our customer who made adjustments for more functional  pocket placement; she drew the changes right on the prototype and sent us a picture. A pen pocket has been added to the top, main pockets lowered, interior pockets enlarged.
These changes will be made into a new prototype and once approved  will be sewn out in a black cotton twill for the final product.  The  functional design elements of this apron will then be added to our regular offerings.