pillow covers
pillow covers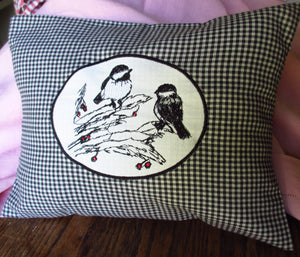 Thank you for stoppin' by. We received the nicest inquiry yesterday for audio on these blog posts. So there will be a short video attached with the same general information. Hopefully this will work for those who prefer to listen.
We have finished 1 prototype and and 1 order item on our small pillow covers. They finish out at about 10" x 13" or so and will need a small pillow form that you can make at home. They are constructed like an envelope with a button closure on the back.
The prototype has a chickadee applique on a navy background and red band on the back. The order has the applique on a black and white gingham background, again with the red band on the back. Interior seams are fully finished. Artist is Ethan Coker.
These things are cute, cute, cute!