Lavender stripe 100% Linen Apron Shirt Tunic with Applique
Lavender stripe 100% Linen Apron Shirt Tunic with Applique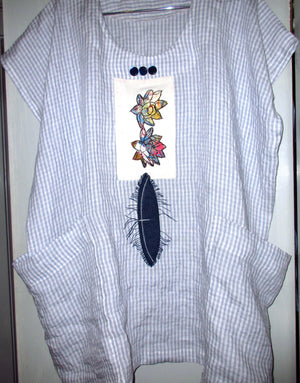 Out the door as a gift  is this loose fitting apron-shirt-tunic in a beautiful lavender stripe 100% linen fabric. This one features those great big slouchy pockets, scoop  neckline and center front applique based on a drawing by Alabama artist Haley Brianna Atwell.
Finished width about 28"
 Finished length about 32"
 Arm openings about 10" top to bottom
Pockets 12.5" deep x 18" wide, placed at the hem and centered on the side seam
Neckline based on primer here: https://sewguide.com/kaftan-dress-free-pattern/
Have some fun making yours and post!