Easy tip for corner embroideries
Easy tip for corner embroideries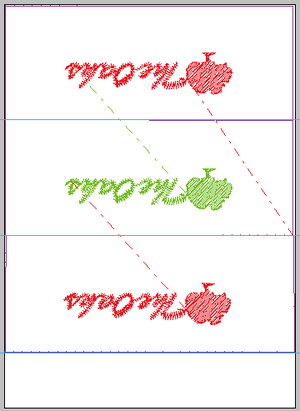 Here is an easy-to-do tip for doing corner embroideries that are done in multiples. This is a floating tip, not a hooped tip.
    I just finished a large order for  linen towels with a small logo in one corner for The Oaks Family RV Park and Campground in Andalusia, Alabama. To ease the process and to get a consistent spacing from the corner edges, a template was made to allow 3 towels to be floated at once.
   I worked upside down so the towels could be flipped out of the way as I went. But you can do it as you like. Towels are floated on the frame starting with the corner at the scissors symbol and working up, lining up with the template. 3 towels will fit on this one.
   Embroidery is started on the top one, then the towel is flipped out of the  way for the next one, and so on. Spacing here was set at 1" from each edge and I used a wash away stabilizer.
    Color changes ensure that the machine stops between towels.  Density is intentionally light here as the setting is rustic, the linen is coarse with a loose weave and I wanted to preserve the hand of the fabric (during testing a standard default density embroidery sat at the corner like a wad of chewing gum; it was even worse after washing.)
   Hope this is helpful. The run of towels is for the nice folks at The Oaks Family RV Park and Campground in Andalusia, Alabama. Here is the website link if you are a traveler looking for accommodation:  https://www.oaksfamilyrv.com/