towel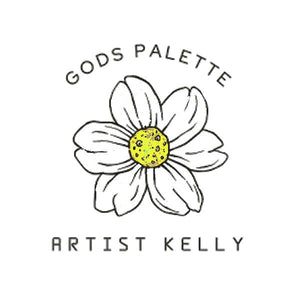 Also known as Artist Kelly J on this site, Kelly continues to refine and redesign herself as an artist. Her designs here will continue to be expanded on from her early line drawings, first brought to you on as free ColoringBook designs on Facebook and later under her logo as Artist Kelly J. Here is Kelly's most recent bio as Gods Palette Artist Kelly:
"November of 2022 I finally felt ready to take my Art public. I found the medium that I love to work with which is a thick bodied acrylic that adds great texture to my work. I mostly love painting things that I see in nature and what inspires me from above. I love life from the spirit side where materialism is minimal in my work. I chose the name Gods Palette because life from His perspective is filled with color and love, kindness and the happy side of life. God, Yeshua and the Holy Spirit are my guides in life and always are helping me to keep my feet on the blessed path. My Art is my ministry and some of the profit from my work is shared with certain people, groups, and sanctuaries of my choice, and you can read where I give to on my website link.

Many Blessings and Thank you for your purchase!
Respectfully
Gods Palette Artist Kelly
https://www.facebook.com/groups/coloringbook2023
website https://kelly2art.weebly.com/
Note:
Update: 11-18-23 New updated website https://kelly2art.weebly.com/

Update: 1-24-23 Gods Palette Artist Kelly has been with us at Handes Of A Woman for several years and we are thrilled for her ongoing success! Our collection of her line drawing artworks is from an earlier period when she was under the name Artist Kelly J; we will continue work on these charming and inspiring works over time. CS Murphy

Gods Palette Artist Kelly