The Dress Story So Far
The Dress Story So Far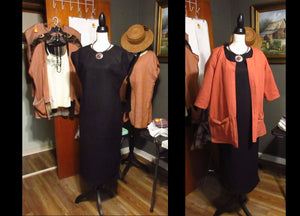 We started the handesofawoman dress story with a simple, oversized paper doll dress that was a big square and went on over your head.
The empire waist with exposed french seams followed.
Next the silhouette started moving in, keeping the paper doll and over your head feature intact with the basic tunic top and dress.
Next a set in sleeve with a defined shoulder, again keeping the garment over your head.
Then a jacket with bust darts
and now a basic dress with bust darts and shaped waist that still over goes on over your head.
Next step is to add a set in sleeve to this silhouette. Many thanks to ALL the women who are helping me on this journey, with alterations, fittings and test drives; this work could not happen without you!