Tags!
Tags!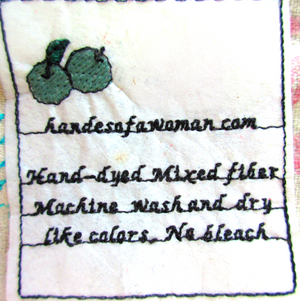 Every project has a pet nemesis, and here at HANDES it is most definitely tags. Our kitchy tags personify the handmade nature of our products and are something we hope to continue using.  The fruit was added at the suggestion of my husband , Neil Murphy and he was right about it. The little logo allows some customization for each product and the tags have found some affection in my heart. They are, however, a never ending source of frustration due to the small size, changing custom features, and their limiting constraints on production and use of the embroidery machine. Chuckle. I hope we are both enjoying these little bobbles for many years to come.
Shown above is an older tag, made for a fabric of uncertain fiber. It was found in my tag bin and was made for a clearance fabric that has nice weight and texture.  After dying, the threads of warp and weft were clearly different, so tags are marked as mixed.
Here is the new format, made from the photo shown; first replacement- for- the- lost. YAY!
We will be at Jean's Garden May 10, 11, 12 for our spring show. Printed fabric from spoonflower.com should be here this week with new artists being featured. Jean's is off I-65 at the corner of 106 and 77 in Crenshaw County Alabama, between Georgiana and Brantley.  Come see us if you are local or on your way to the beach!