"small moves, ellie. small moves."
"small moves, ellie. small moves."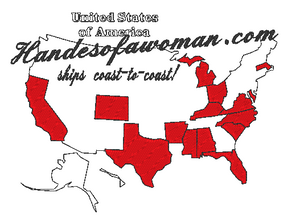 Thanks, everyone, for taking us coast-to-coast!  We celebrate even the smalls at Handesofawoman.com. Word of mouth by family and friends, followed by product tagging and social media marketing has done wonders:  yesterday a customer found us on a Google search.  Go figure.  We ship coast-to-coast and made a little map to see our progress. We will also directly ship a gift for you; just let us know. This map is what I can remember and from records since we lost the hard-drive. If you have some of our stuff and don't see your state, please let me know so we can add you!  You just never know what's going to happen every day when you get up. One towel at a time.