Slip Up Gets Its Own Mr. Haney!
Slip Up Gets Its Own Mr. Haney!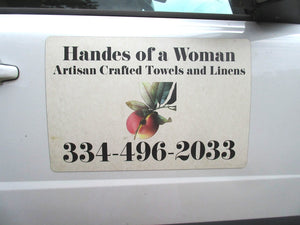 Mrs. Murphy is the new Mr. Haney as Handes Of A Woman hits the road this morning to meet a neighbor on the porch! She's wanting a new tablecloth for the fall holidays so I loaded up  some  fabric options and we'll see what we can do.
    Tablecloths take a good bit of fabric, and off the bolt fabrics require a seam. Prices range based on the table size and  fabric chosen; linen the most expensive and polyester poplin, quilting cotton or cotton duck  the most thrifty. To avoid a seam, try using a flat sheet in your favorite patter and re-purposing it. To get the most from your decorating dollar use a neutral tablecloth and changing out runners for the season or hoilidays. Or use a row of napkins as a runner!
   Watch for tablecloths and throws at thrift stores, too. These items can be used interchangeably on many smaller tables and come in a variety of popular colors.
   Tablecloths are custom items and made to order. We love custom orders and are happy to help. If you have the fabric, we'll do the sewing. Andalusia Sewing Center has a large variety of cotton duck and other decorator fabrics; be sure to check the on-sale rolls/bolts at the back of the store, too.
That's it for now. Watch for us when you are out and about, and  If you need sewing, mending, or hemming give us a call at 334-496-2033.