Market Bags For This Week
Market Bags For This Week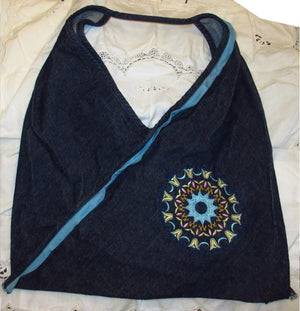 Boho, hippie girls! Had a request for a market bag so made 2 extras for the store; dark blue denim, one plain and one embroidered with aqua band. When carried over the shoulder, banding cuts diagonally across round middles providing visual distraction. Our logo is embroidered on the back in matching dark blue and looks embossed.

   Bottom of bag measures about 22" wide. Cotton; linen band; machine wash and dry, press if desired. Made in USA. Shown right out of the dryer so you know what to expect; I like the slight waviness of the linen banding.

Plain is $20, Embroidered with band is $30.