About Made In America versus Made In USA
About Made In America versus Made In USA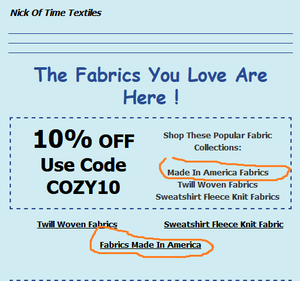 Nick Of Time Textiles is one of our suppliers
email coupon lists a collection of fabric as Made In America!
it means people are looking for Made In USA and that's great!
to many of us America will always mean USA,
however, today in the textile industry this can mean USA or North America (Canada, USA or Mexico)
be sure to check individual fabric labels to fit your preference or business model
our preference here at Handes is Made In USA!
some fabrics are made overseas and finished in USA, a good start at bringing makers back, so
keep working to bring manufacturing back home!