Last Week's Projects
Last Week's Projects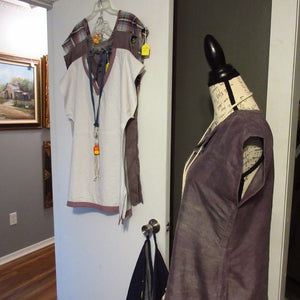 Last week's projects:
mending: repaired lost suspender sites on 2 pair of jeans,

alterations: altered a medium purple silk basic tunic top to shape the waist and still allow it to go on over customer's head

custom: made a denim cobbler nail apron with pencil pocket and fixed neck strap,
new item: made a 1940's vintage style, calico grandma's waist apron which will become a new offered apron,
new feature: drafted our first prototype top with bust darts. Darts add shaping and allow continued slimming of the silhouette.
And as usual, I forgot to take all the pictures; the week is young...