Dress Day
Dress Day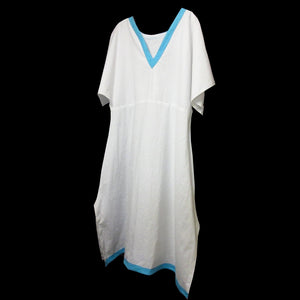 Breaking stride from an apron run to do up some dresses on order.  Big day at Handes!  This will be our first run and will see how it goes. Today's fare will be the oversized dress with great big pockets in cotton and linen with and without embroideries, plus a fitting for a new sleeveless shift. There just might also be a local model interview, as well.
Feature photo shows a new slimmer silhouette in the works with empire waist, exposed seaming and contrasting binding; pockets are pending. These are what I am calling paper doll dresses, minimal shaping and just enough ease to get them over your head without buttons or zippers.
Time for coffee!
Model Colene Beck in one of our oversized tunics.