Build An Outfit From Our Primitive Designs
Build An Outfit From Our Primitive Designs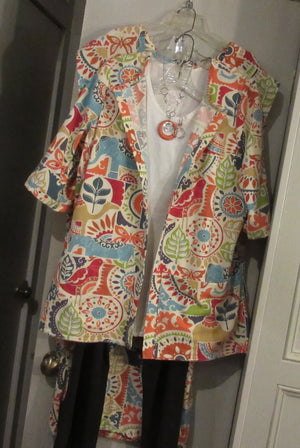 Dress, tunic, jacket in a slim silhouette, all made from the same design with neck and sleeve variations. The dress and tunic have open necklines, self cap sleeves and go on over your head; the jacket opens down the front, has set-in 3/4 sleeves and high neck. Pants are ready-made-hand-me-down. Many thanks to Sure Fit Designs for help with the addition of set-in sleeves!

We started with a great big, oversized tunic and muumuu dress with a sweep of about 60 inches for a size Large. For a slimmer, everyday silhouette, we standardized our basic tunic top with a sweep of about 46" for size Large ( a 23% reduction in volume!) and then by popular demand in 2022, brought in a set in sleeve. Darts to follow.
Above: Oversized Tunic in natural linen on Colene; Basic Tunic Top in purple silk.
By-the-way, store hours will soon be increased to a full 8 hours! Starting March 3, 2023, store will be open at the indoor yard sale 10am-6pm every Friday and Saturday so you can stop by on your way home from work! Map and directions here